Edamame Pasta Salad
---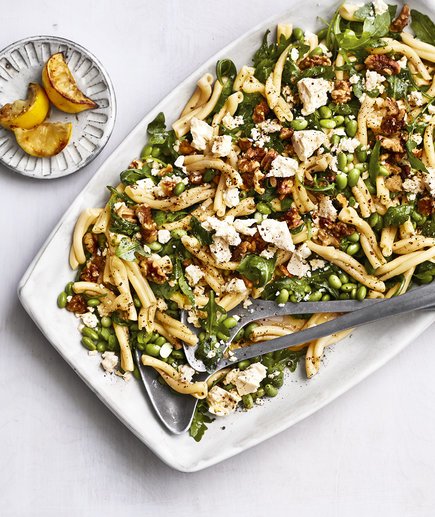 Pasta salad might sound retro, but this fresh take is perfect for a weeknight dinner or as a side at a dinner party. Here, with nutty edamame, toasted walnuts, and crumbled feta, you get something elegant and interesting. Sherry vinegar adds a nice mellow flavor, but you can substitute red or white wine vinegar in a pinch. If you're making this ahead, leave out the baby arugula until just before serving.
How to Make It
Step 1
Cook pasta in a large pot of boiling salted water according to package instructions, adding edamame during the last 4 minutes of cooking.
Step 2
Meanwhile, heat a small skillet over medium-high. Add lemon wedges, cut side down, and cook until well blistered, about 1 minute per side. Transfer to a plate.
Step 3
Reserving 2 tablespoons of cooking liquid, drain pasta and edamame; transfer to a large bowl. Toss with 2 tablespoons oil; set aside until cool, 5 to 10 minutes.
Step 4
Whisk together salt, vinegar, pepper, reserved cooking liquid, and remaining 4 tablespoons oil in a small bowl. Add to bowl with pasta and edamame along with arugula, feta, and walnuts; toss well. Squeeze seared lemon wedges over pasta.