SUMMER CORN SALAD RECIPE
---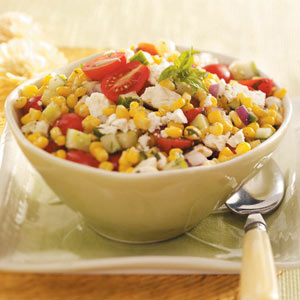 Since Local Brentwood Corn Has Been Phenomenal Recently, Our Produce Manager Mike Thought A Corn Salad Sounded Pretty Darn Good!
This beautiful salad truly captures the summer season. It's chock full of fresh veggies and basil, and feta cheese gives it a rich, tangy flavor the whole family will love. —Priscilla Yee, Concord, California
INGREDIENTS
5 teaspoons olive oil, divided

1 tablespoon lime juice

1/4 teaspoon salt

1/4 teaspoon hot pepper sauce

1-1/2 cups fresh or frozen corn, thawed

1-1/2 cups cherry tomatoes, halved

1/2 cup finely chopped cucumber

1/4 cup finely chopped red onion

2 tablespoons minced fresh basil or 2 teaspoons dried basil

1/4 cup crumbled feta cheese
DIRECTIONS
In a small bowl, whisk 4 teaspoons oil, lime juice, salt and pepper sauce; set aside.

In a large skillet, cook and stir corn in remaining oil over medium-high heat until tender. Transfer to a salad bowl; cool slightly. Add the tomatoes, cucumber, onion and basil. Drizzle with dressing and toss to coat.

Let stand for 10 minutes before serving or refrigerate until chilled. Sprinkle with cheese just before serving.

 

Yield: 

4 servings.
NUTRITIONAL FACTS
3/4 cup: 136 calories, 8g fat (2g saturated fat), 4mg cholesterol, 231mg sodium, 16g carbohydrate (4g sugars, 3g fiber), 4g protein. Diabetic Exchanges: 1-1/2 fat, 1 starch.